The first newspaper in India was The Bengal Gazette started in 1780 and was printed under the British Raj by James Augustus Hicky. It was also known as the 'Calcutta General Advertiser. After The Bengal Gazette, Other newspapers came to light, such as The India Gazette, The Calcutta Gazette, The Madras Courier (1785), and The Bombay Herald (1789).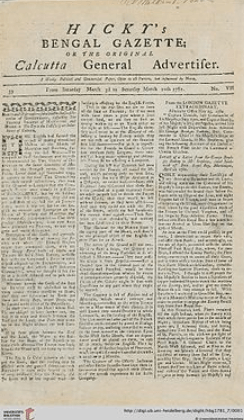 Newspapers in India are the hypocritical trend of the general public. It is hard for the country's people without newspapers. Its major role is to act as the superintendent of the country, besides this, it is also important for education, sports, politics, current affairs, and entertainment. In other words, we can say that the printed means passing on current information.
For Journalism in India, the year 1857 is known as the evolution year. This year is marked by the distribution of the Indian press and British press. The first edition of "The Times of India" was published by Robert Knight In the year 1861. "Amrit Bazar Patrika" was started in the year 1868, this newspaper mainly focused upon the social agents and the political leaders and started endowing in the field of journalism.
During British rule, Indian newspapers excessively participated in the struggle for India's freedom. The role of newspapers was changed after Independence and it has become industrialized and started employing a large number of people.
The information in Modern India is updated by several agencies. Currently, India has four major news agencies – Press Trust of India, United News of India, Samachar Bharati, and Hindusthan Samachar. The role of newspapers is to be understood very carefully, as it is the lifeline of a nation as well as for society.
Important Newspapers
List of Famous Newspaper and their year
jQuery allows the user to create powerful and dynamic webpages that run without any hiccup. With StudySection, you have the liberty to choose among beginner or expert level jQuery Certification Exams to help you excel in this career field.