Tata Group is a very large business organization consisting of several companies headquartered in Mumbai, Maharashtra, India. Founded in 1868 by Jamsetji Tata, the company came into existence after purchasing several global companies. One of India's largest business organizations, Tata Group is owned by Tata Sons. It is one of the biggest and oldest business organizations in the country, founded 153 years ago in 1868. Each Tata company has its own board of directors and shareholders and it operates independently under the guidance and supervision of their board of directors and shareholders.
Powerful Tata companies and subsidiaries include Tata Chemicals, Tata Communications, Tata Consultancy Services, Tata Consumer Products, Tata Elxsi, Tata Motors, Tata Power, Tata Steel, Voltas, Tata Cliq, Titan, Trent (Westside), Indian Hotels Company Limited, TajAir, TATA AutoComp Systems Ltd, Vistara, Cromā, and Indicash.
History of Tata Group
Year 1868 – Jamsetji Nusserwanji Tata at the age of 29, he started a trading company with a capital of ₹21,000 — the early beginnings is now the Tata group.
Year 1874 – Jamsetji established a textile mill in Nagpur — That is India's textile hub.
Year 1892 – Jamsetji established the JN Tata Endowment Fund to help Indian students to continue their higher studies abroad.
Year 1903 – On December 16th, The Taj Mahal Hotel opened for business. It is one of Jamsetji's dreams for India.
Year 1904 – Jamsetji passed away in Germany in 1904 and his son, Sir Dorabji Tata, brought his father's grand vision for India to existence. He became Chairman in 1904.
Year 1907 – Sir Dorab's first establishment was Tata Iron and Steel Company (now it is Tata Steel)
Year 1907 – Tata Limited, has opened their group's first overseas office in London. The step marks the beginning of the group's global platform.
Year 1909 – The Indian Institute of Science is established through the vision of JN Tata, 5 years after his death. The first batch of students was admitted in 1911.
Year 1910 – Jamsetji's dream of bringing clean energy to Mumbai by establishing Western India's first hydro plant, is brought to life by Sir Dorab. Tata Power was born.
Year 1917 – The group makes its consumer space debut with Tata Oil Mills Co (TOMCO), known for popular soap brands, Hamam and Moti. It was sold to Hindustan Lever in 1984.
Year 1929 – 24-year-old JRD Tata receives the first pilot license in India, the culmination of a childhood fascination with flying and with legendary aviator Louis Bleriot.
Year 1932 – India's aviation aspirations soar as JRD pilots the first flight of the subcontinent from Karachi to Mumbai. Tata Airlines (later, Air India) was born.
Year 1939 – Tata Chemicals is incorporated in isolated, coastal Mithapur. A thriving community grows around the plant as the company grows into a market leader.
Year 1941 – The Tata Memorial Hospital is commissioned by the Sir Dorabji Tata Trust. It pioneers cancer treatment in the country and offers access to cancer care for all.
Year 1945 – The group's rapid business expansion continues with the establishment of Tata Engineering and Locomotive Company. By 2003, it was rechristened Tata Motors.
Year 1945 – India's scientific infrastructure takes a decisive step forward when JRD Tata and Homi Bhabha establish the Tata Institute of Fundamental Research.
Year 1946 – Naval Tata is named President of the Indian Hockey Association. Under his watch, India achieved Olympic glory, with golds in 1948, 1952 & 1956.
Year 1952 – Women across the country celebrate as the group launches India's first cosmetics brand, Lakme. It was sold to Hindustan Unilever, along with TOMCO, in 1984.
Year 1954 – Voltas is incorporated and is associated with multiple prestigious projects, making it a leading engineering solutions provider and air conditioning brand.
Year 1954 – TELCO enters the commercial vehicle space in collaboration with Daimler Benz AG, West Germany. The first Tata Mercedes-Benz truck rolls out in six months.
Year 1962 – The group's interest in the beverages space is brewing. The country wakes up to a cup of Tata Finlay (later, the iconic Tata Tea; now, Tata Global Beverages).
Year 1962 – Tata Exports (now, Tata International) is set up. The company operates in 39 countries, focusing on trading & distribution, and manufacturing leather products.
Year 1968 – India's first software services company, Tata Consultancy Services ushers in a new era. Today, it is a truly global enterprise with a presence in 46 countries.
Year 1969 – JRD Tata and Dr. Jamshed Bhabha envision a world-class performing arts centre to preserve India's heritage. Enter the National Centre for the Performing Arts.
Year 1982 – The Taj Group accelerates its international expansion with the acquisition of St. James Court in London, UK, two years after the company's first international hotel in Yemen.
Year 1983 – Tata Chemicals changes the way India consumes salt. Tata Salt is the country's first iodized branded salt — the 'Desh ka namak' to build a strong, healthy nation.
Year 1984 – The group clocks another win as Titan Industries, a JV with the Tamil Nadu Industrial Development Corporation (TIDCO), makes a splash in a watch-starved market.
Year 1991 – After its success with commercial vehicles, TELCO (now Tata Motors) cruises into the passenger vehicle space with Tata Sierra, followed by Tata Estate in 1992.
Year 1991 – With a view to preserving the group's unique heritage, JRD Tata establishes the Tata Central Archives in Mumbai. The archives found a new home in Pune in 2001.
Year 1991 – After 53 years at the helm, JRD Tata steps down as Chairman, naming Ratan N Tata as successor. Under Ratan Tata, the group grew into a $100bn enterprise.
Year 1992 – With an eye on an evolving market, Titan launches Raga to tap into the women's watch segment. Fastrack (launched 1998) becomes an iconic youth brand.
Year 1992 – JRD Tata is awarded India's highest civilian honor, the Bharat Ratna, for his contribution to nation-building, and also wins the UN Population Award this year.
Year 1994 – Titan revolutionizes the Indian jewelry market with the launch of Tanishq. The retail brand brings transparency and reliability to an unorganized sector.
Year 1998 – Tata Indica, India's first indigenously designed and manufactured car, and Tata Safari, India's first SUV, are launched by TELCO (now, Tata Motors).
Year 2000 – Tata Tea (now Tata Global Beverages) acquires the iconic, then 160-year-old, British Tetley group. Today, it is the second-largest tea brand, globally.
Year 2001 – The group strengthened its presence in the insurance sector with two joint ventures — Tata AIG this year, and Tata AIA in 2000.
Year 2002 – The Tata group acquires a controlling stake in VSNL, establishing Tata Communications. The company is a global leader in network solutions, mobility, and IoT.
Year 2003 – TCS is the first Indian software company to cross one billion dollars in revenues. It went public in 2004 in the largest IPO in India, raising nearly $1.2bn.
Year 2004 – Tata Motors acquires the heavy vehicles unit of Daewoo Motors, and in the same year, is listed on the New York Stock Exchange.
Year 2006 – The group responds to the transforming satellite entertainment space by launching DTH (Direct-to-Home) provider, Tata Sky.
Year 2006 – Infiniti Retail launches Croma, India's first national chain of multi-brand outlets for consumer electronics and durables.
Year 2007 – Tata Steel acquired Corus (now, Tata Steel Europe). It is Europe's second-largest steel producer serving construction, automotive, packaging & engineering industries.
Year 2008 – Tata Motors unveils the 'people's car', Tata Nano, to make safe transport affordable to millions. It also acquired an iconic British carmaker, Jaguar Land Rover.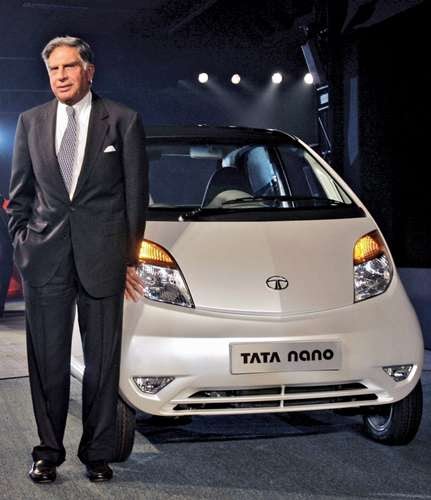 Year 2011 – Tata Medical Center, comprehensive cancer care and treatment facility designed especially to serve the poor in the region is inaugurated by Ratan Tata.
Year 2012 – TGBL's JV with an international coffee giant, Starbucks, is welcomed by coffee lovers. The next 5 years see the fastest rollout of stores in Starbucks' history.
Year 2014 – Bombay House, is the first heritage building in India to receive a gold rating by Indian Green Building Council. Two years later, it received a platinum rating.
Year 2014 – The group charts course for its newest aviation adventure. AirAsia India, a JV with popular, low-cost airline AirAsia Berhad, begins operations
Year 2015 – The group follows up that development with Vistara, Tata Sons' JV with Singapore Airlines. It celebrates flying 1 million customers that same year.
Year 2017 – N. Chandrasekaran, CEO and MD of TCS since 2009, is appointed Chairman of Tata Sons by the Board of Directors.
Year 2017 – The Tata group is the new title sponsor of Asia's most prestigious marathon for 10 years, the Mumbai Marathon. It is jointly sponsored by the Tata group and TCS.
Year 2017 – TCS and Cornell Tech inaugurate the Tata Innovation Center to promote joint academic and industry research, following a $50 million investment by TCS.
Year 2018 – Tata Steel and ThyssenKrupp sign a landmark JV to create a new, strong pan-European steel champion that is structurally robust and competitive.
Year 2018 – TCS becomes the first listed Indian IT company to breach $100 billion in market capitalization, ushering in a new phase of growth for India Inc.
Year 2019 – In May 2019, Tata Global Beverages and Tata Chemicals announce a transaction to combine their consumer brands and create a new entity, Tata Consumer Products Ltd.
Year 2019 – Brand Finance names Tata as India's most valuable brand for 2019. With its brand value growing by 37 percent to $19.6 billion, it is the fastest-growing brand among the top 25.
Individuals that have a good command over English have more chances of getting hired. An English certification can help in such situations. English Certification Exam from StudySection includes basic as well as advanced level English language concepts.