YouTube Video SEO (search engine optimization) is the process of using certain SEO techniques to make sure that your videos appear higher in google search. In an environment of stiff competition from competitors, it is not as simple as just shooting and uploading your video content. It requires a great effort to promote your videos so that they can appear on top.

1. Using the Right Target Keywords
A keyword is a word (or phrase) that an internet user uses when searching online. For video SEO using the most popular and relevant keywords in your video description improves the chances of it showing at the top of YouTube's search results. Keywords are the most important and integral part of optimizing content for search engines. The main purpose of keyword research is to find the keywords that people are searching the most for in YouTube and other search engines, like Google, Bing, Yahoo, and then implement these important keywords into your video titles, descriptions and transcripts.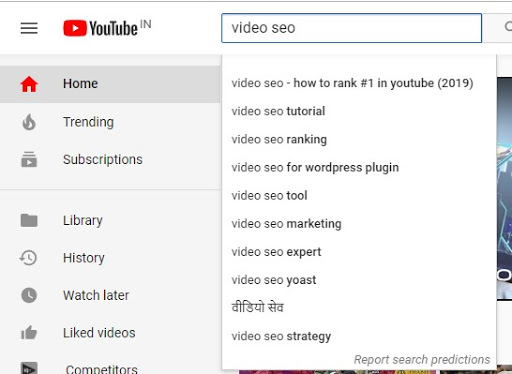 The first step of Video SEO is to generate a list of potential keywords that are relevant to your business and the content you produce. To find keywords and their search volumes, you can use tools like Google Keyword Planner, KeywordTool.io and SEMRush, etc. YouTube's Search autocomplete feature is also very useful to generate keyword ideas on YouTube directly.
2. Optimizing Metadata: Tags, Filenames, and Descriptions
Tags: The keywords which are assigned to videos are called Tags. Tags should be treated as a set of words that summarises what the video's content is about to convey.
Since we have a list of potential keywords selected, so they will work as video tags. These are the tags that we should focus on and optimize the video for them. We can use more than one tag for Video SEO as long as it's relevant to our video's content.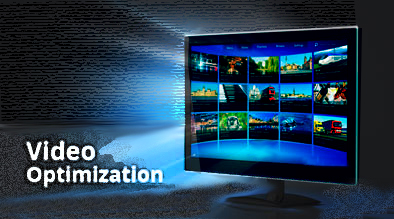 Description: YouTube gives the 5,000 characters worth of description text that we can use to describe what our video is about. And if we are not using those 5,000 characters to get SEO advantage then you're missing it out. Best practices indicate that we should use the keyword (the same one we used as a primary tag) a few times in your video's description text.
File Name: Finally, make sure to save the videos with the primary keyword as its filename because there are many third-party tools on the web that crawl through and factor in video filenames even if Google and YouTube don't do. So, instead of saving the original video file as video1.mp4 or youtube-video.mp4, we should use our primary keyword in its filename. For example, save the video as wordpress_tutorial.mp4.

3.Adding the Transcript to Video
The textual representation of the content spoken in the video is called the Video transcripts. While metadata and video tags do not offer as much detail of your video's content to search engines as transcriptions can do. The search engine bots crawl the text and use it for indexing. So, a video transcript helps search engines to better understand the video's content and improve its ranking on search engines.
These steps should be followed to transcribe your own video files on YouTube:
Your transcription file should be saved as .txt. file
The special characters should not be used in the transcript as this can disturb the speech recognition matching and readability of the transcript.
To signal long pause or new sentence a double line break should be used
At the start of the new line to identify speakers or change of speaker.
In your website, insert a link to the audio transcript at the end of the video.
These factors of transcribing your video content will help by improving the user's experience and it'll give you the opportunity to use the main primary keyword we are targeting for optimizing.
4. Create a Blog Post with targeted Keyword
Creating a blog post on a regular basis will be beneficial with the same targeted keywords as your video has used, to rank higher on Google search because both the blog post and the video can rank higher on Google. Embed the video in the blog post, and link it to the blog in the video description. The more traffic you target to the blog post, the more views you will get for your video search, and vice versa. Therefore the views, likes, and embeds are seen favorably by YouTube and Google as audience interactions, which means your videos are more likely to show up in search results.

5. Choose an appropriate Thumbnail
Thumbnail is very useful for attracting to let users click your video. A thumbnail often gives people the best idea of what sort of video they will be looking for. If the thumbnail looks unprofessional or boring, they'll assume that the video content and quality will be of wastage of time. The thumbnail should not be a blurry one, not captured still from your video. A 'custom thumbnail should look professional, well-lit photo as well as enticing graphic text.

6. Creating good videos with good promotion:
Audience retention is an important video SEO ranking factor for YouTube. It means that if we want our videos to perform well for the search results, we need to make sure they're engaging well to keep people watching those videos until the very end.
The goal should be to keep audience retention as close to 100% as we can because this means viewers are watching all of the ways through the medium. Videos with consistently very high audience retention percentage and watch time have the potential to show up more frequently in search results.
Knowledge of .NET is quite rewarding in the IT industry. If you have got some skills in the .NET framework then a .NET certification from StudySection can prove to be a good attachment with your resume. You can go for a foundation level certificate as well as an advanced level certificate in the .NET framework.