What is SiB?
The SiB is a small, ring-box sized self-powered, wireless Internet-connected button. Paired with our SiMP Messaging App, this little device can be programmed to do almost anything! The goal of the SiB is to create an ecosystem of sensors to fulfill everyday needs at an affordable price, with the least necessary technical knowledge required to set up. The app is free and there are no monthly fees!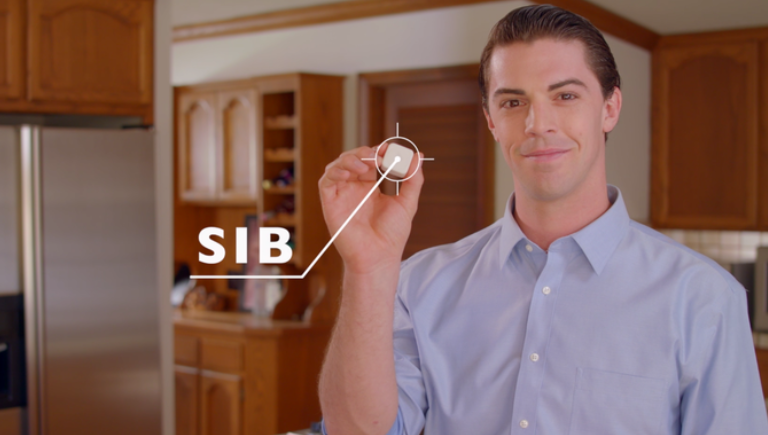 Capabilities
The SiB powers on and runs a program of your choice when the button is pressed. In addition, the SiB can run long-running, or scheduled tasks, such as checking a sensor regularly. The SiB communicates with you through our messaging app SiMP; you receive messages from your SiB, and you send messages to your SiB.
On its own, it is capable of sending instant messages, sending urgent messages (played with a louder 'alarm' volume), measuring the temperature, detecting the presence or absence of a nearby magnet (magnetic alarm), providing multi-colored light, performing timed tasks, detecting nearby WiFi routers, and detecting button press sequences (like "double-click") to perform different actions.
The SiB's battery can last over 4500 button-presses! For the average user, that's years of use out of a single SiB.
The SiB is configured through SiMP, which provides a list of predefined, simple programs that you can install with a simple press of your SiB. However, the SiB can also be programmed, using simple commands sent from SiMP, to do any combination of all of the SiB's capabilities. The possibilities are endless!
What a SiB Can Do For ONLY $5!
An emergency button for seniors or people at risk, under a desk in a school or a checkout counter; the SiB can send a notification alert to one or multiple contacts when pressed.
A timed night light, both kids and adults can enjoy the super BRIGHT full color LED change color depending on the mood!
A door bell; will alert everybody in the group – whether at home or away!
A fridge or freezer alarm; where the SiB can notify you if your freezer is too warm, for example, when the door has been left open.
A pet location tracking device; employing Bluetooth and WiFi to alert you when a pet goes missing.
A personal alarm, place it in your bag, under your bicycle, and get notified on your mobile the moment the item is outside the safe perimeter.
The SiB has a built-in magnetic sensor that can be used as an alarm.
With the built-in temperature sensor, it can report regularly what the temperature is.
Put it in your PoBox and request whenever a letter is inserted, for the SiB to be pressed, a notification will save you a regular trip to the post office!
Can turn on or off any device at home or anywhere!
Gift it to a loved one and tell them to press it whenever they miss you or when they feel like saying I love you!
Keep in mind the SiB is fully programmable so its functions and applications are limited by your imagination.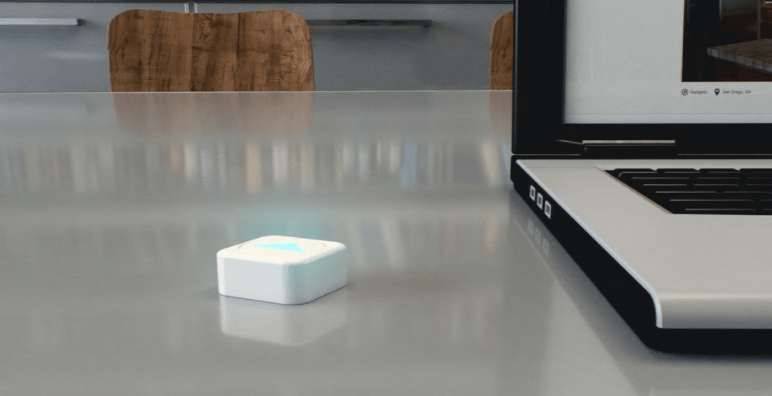 Why SO Cheap?
In recent days as people learned more about the SiB™ and what it can do, one of the most common questions asked is: Why so cheap? We should clarify first of all that the price is as low as it is, because this is a Kickstarter campaign and, after all, people come here looking for the latest and greatest at a price point that is specific to an early backer.
So you then might be wondering, but $5 is not enough to make something that is of high quality and for them to make any money! – and you would normally be correct. Except the SiB IS of very high quality, we're just not making ANY profit on the sale of each SiB at this special Kickstarter price. The $5 price just barely covers the manufacturing and assembly (along with associated overheads) and, most important, all the high-quality components we've selected. Our aim has always been to design a small device that needs to last many years, rather than the typical cheap products that only last a few months or days.
Kickstarter doesn't just provide a medium to sell a product, it also provides a valuable platform to demonstrate a product to the world, and the resulting exposure can lead to a lot of good and valuable things. In essence, this is a win-win situation. Backers get a very low-cost product and inventors/companies get exposure and the ability to sell the product later at a much higher price — then again, most of you probably already knew this, but in case you were wondering, now you know why the SiB is so cheap!
HOW a SiB is PROGRAMMED
There are 2 methods to program it, first, you have the ultra user-friendly method and second, you have a more complex, yet easy, but more programmer-focused method.
When you get a SiB and you first run it, it pairs to your SiMP app. In the app, it creates a new conversation where you can send the SiB messages (programs) and it can send you back messages/alerts/notifications/data – anything you've asked it to do.
To access the user-friendly GUI, all you have to do is press the button "Configure your SiB!" in that conversation. Then you scroll through the premade applications and choose the one you need your SiB to run. It's very intuitive and user-friendly and takes just a few seconds to install one of these applications and have your SiB running.
The second option which is more for the tinkerer/programmer is done by manually creating a program in the conversation using the appropriate commands and sending that program to the SiB.
The benefit of using the programming language is that you get an infinite amount of possible applications and customization. The programming language we've developed is simple to understand yet very complete and able to do practically anything you ask of it.
Existing Expansions and Accessories
The accessories included in the pledge reward kits are already in the working prototype stage. They are photographed and described below. Please note that these prototypes are made of 3D-printed materials, and not the polished plastic that the finished, manufactured versions will include.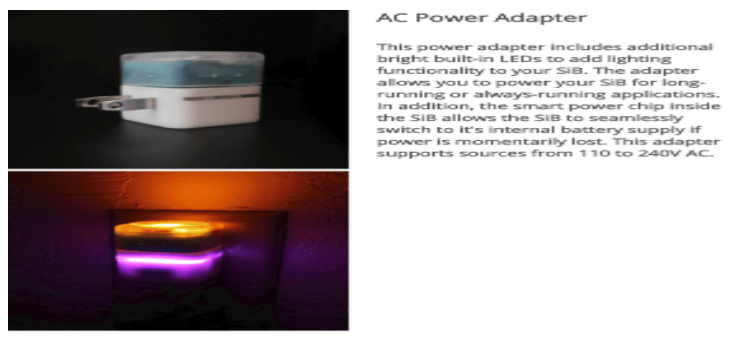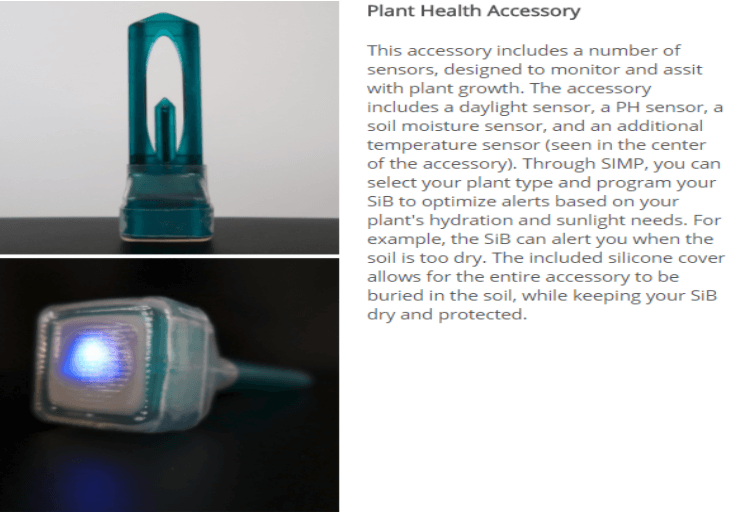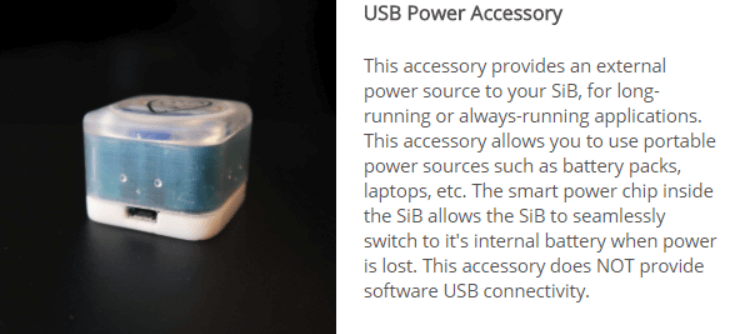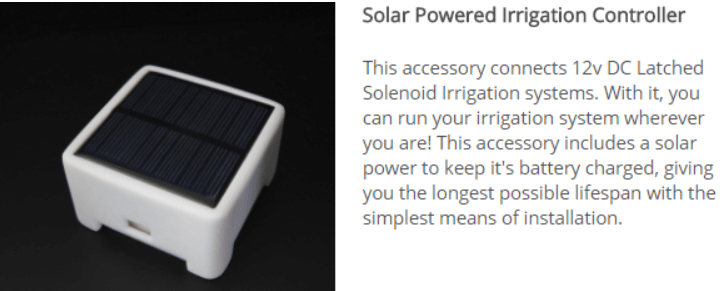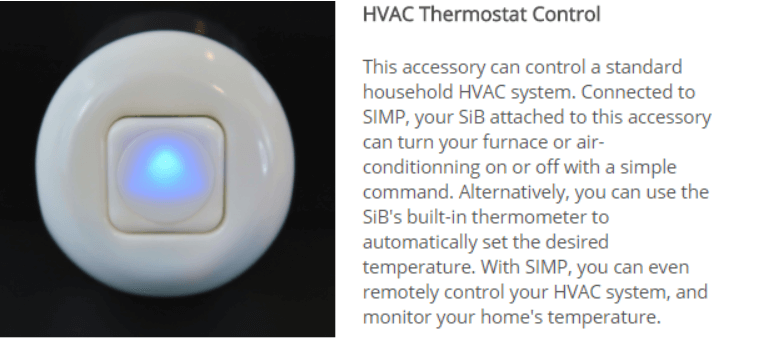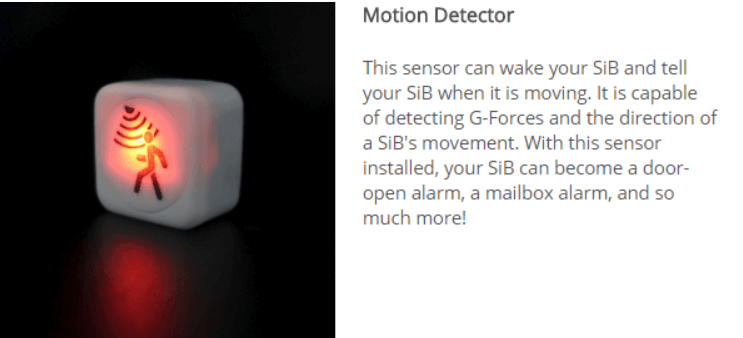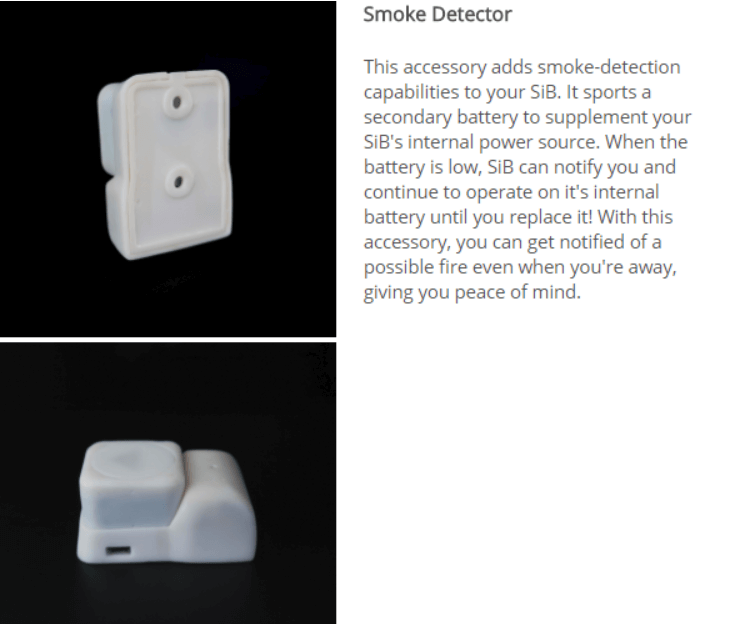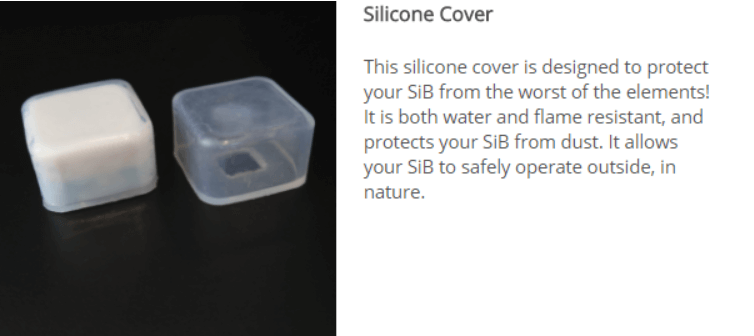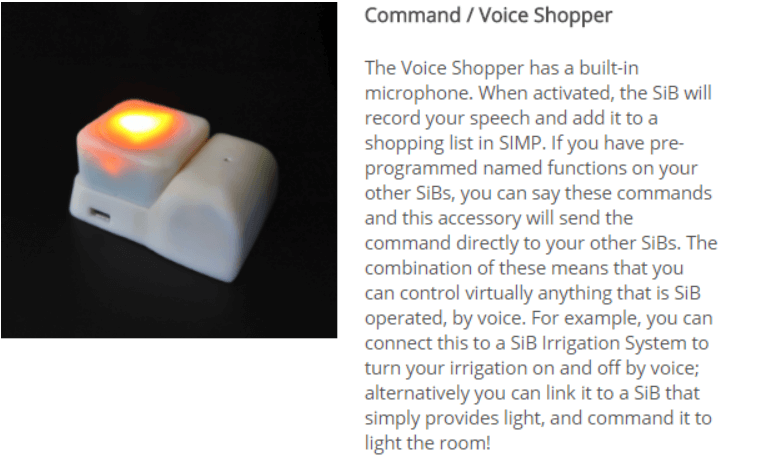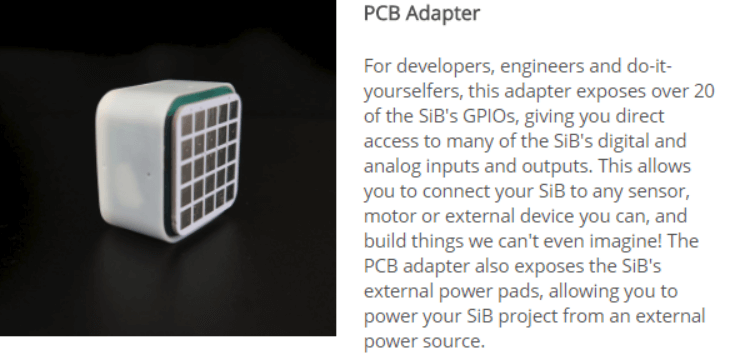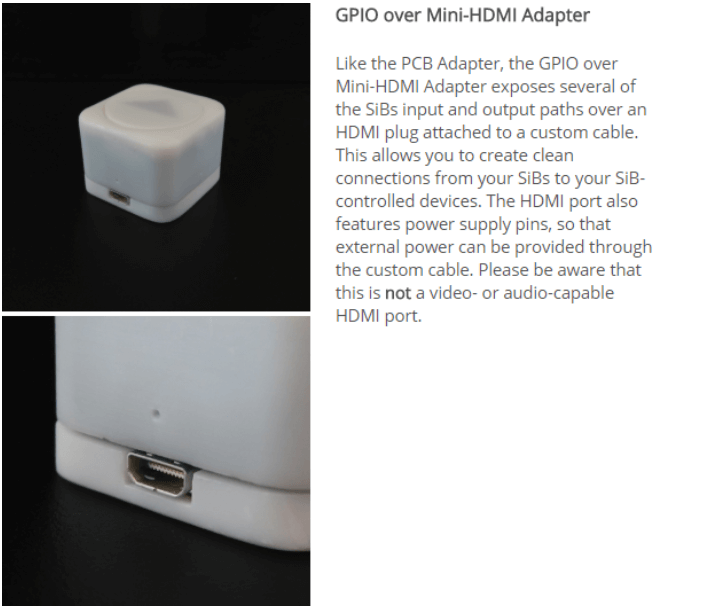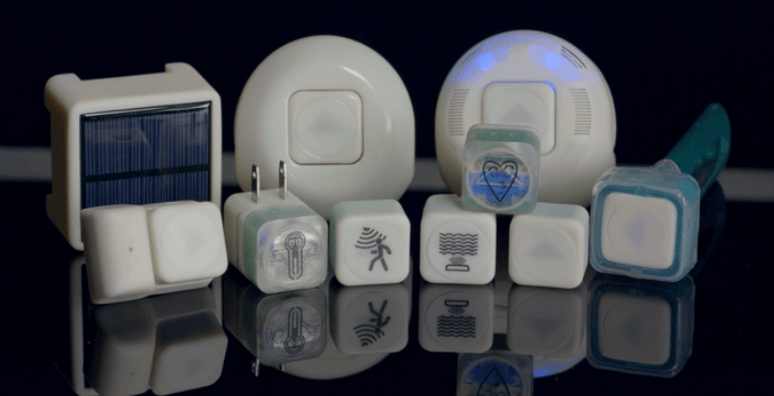 How it works
SiB pairs with our mobile application SiMP, a secure instant messaging platform. Every SiB paired with SiMP appears simply as a new contact. Each SiB creates a chat in SiMP, and uses that chat to send you notifications (for example, sensor alerts, timed events, status, etc); likewise, you can send commands, and programs directly back to the SiB via the same chat. While SiMP comes with a predefined list of programs for SiB, advanced users can put together programs of their own, using the commands described in the Programming section of our website.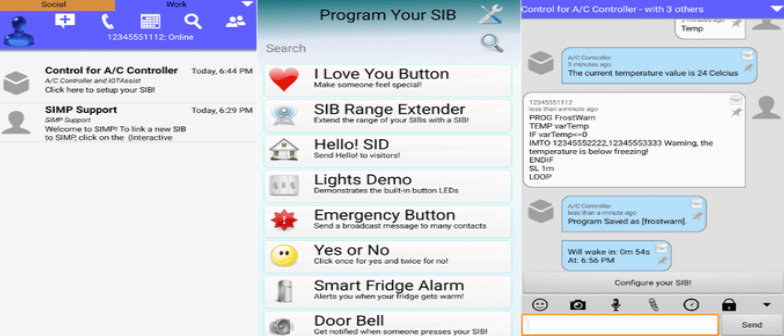 Highlights
The SiB is able to run with its internal battery over 4500 times. That means more than 4500 random or uniform operations over the span of 10 years.
The SiB is able to acquire and log data more than 30000 times with once a week WiFi use.
The SiB is smart; able to carry out dozens of operations by itself.
It is a quality product, able to withstand freezing temperatures (tested to -13F for months at a time) and as high as (140F for over an hour).
High water resistance and completely waterproof with optional silicone cover – tested for weeks submerged entirely in ocean-sourced saltwater.
Able to be plugged to dumb accessories and make them smart.
Dozens of uses when used by itself, exponentially more when used with accessories.
Uses for every age group, from baby to senior.
Multiple patents filed which include technical and design protections.
It is the smallest, most versatile WiFi button in existence. Only 1.2″x1.2″x3/4″! (30.5mm x 30.5mm x 19mm).
Every component in a SiB is rated (at least) -40F (-40C) to 185F (85C) industrial temp range – all components are sourced from reputable manufacturers.
The SiB has an internal super accurate (10ppm) 32.768KHz real-time clock crystal with a deviation of about 35ms per hour – making it more accurate than most watches!
The SiB contains an auto-sense power source chip from TI – thus when external power is removed or lost, the SiB battery keeps the SiB™ powered ON and acting as a perfect backup, and automated notification of this event can immediately be sent to SiMP.
With the SiB you are given the ability to enter more than one WiFi access point, if you experience a problem with your preferred AP, the SiB will automatically switch to any of the next available, making sure that no matter what, the SiB is always able to get that important message or data to you.
If you have skills in PHP programming and you want to enhance your career in this field, a PHP certification from StudySection can help you reach your desired goals. Both beginner level and expert level PHP Certification Exams are offered by StudySection along with other programming certification exams.