What is Google Adwords?
Introduction: Adwords is an online advertising platform developed by Google for business wanting search, display or more ads on Google. It helps you to place search results for your website on a search engine results page (SERP) by paying for them. If your website is new so there is no need to wait to work its way organically up to ranking. By using paid search you can see your website on the top of the SERP. Google Adwords.
Companies can use Adwords to promote their business to the right audience by using relevant keywords and ads. These relevant keywords trigger your ads in front of those users who type these search terms on Google. Your ads are shown on the top, bottom or side of the search engine result page. Before creating a campaign in Google ads we should know about the basic principles of google ads.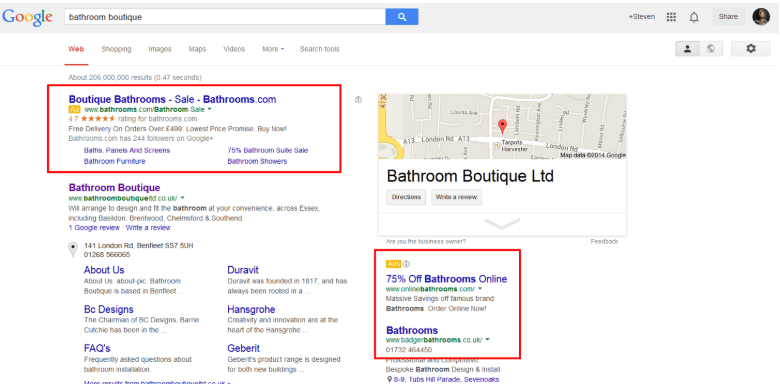 Basic Principles of Google Ads:
Ad Rank: In internet marketing, ad rank is the position of pay per click advertisement on a SERP (Search Engine Result Page). Ad rank depends on the cost per click bid and ads quality score.

Ad Rank = CPC Bid *Quality Score

Quality Score: Google measures the quality of your ads, whether it is relevant or not that people want to see. Better quality scores improve your account performance. Quality score depends on landing page experience, ad relevance and click-through rate.
CPC: CPC is the actual price one pays for each click in your Google ads campaign. Actual CPC depends on your competitor's ads rank and more so, on the quality of your ads score.

Actual CPC= (Competitor ads rank/ Your Quality Score)+0.1

Negative Keywords: The list of negative keywords improve the performance of the ads and reduce cost consumptions. You should exclude negative keywords from your campaign for better ROI.
Click-Through Rate: Click-through rate is your ads' actual click divided by impression. The higher click through indicates higher ads relevant to the keywords. It helps to increase the quality score of the keywords and lower the cost per click.

CTR= Clicks/ Impression

Account Activity: Continuously optimize your Adwords account to increase your quality score of ads. You should make sure that your account is optimized according to the Google algorithm.
Conclusion: Google algorithm refers to delivering the ads that are relevant to their user queries. This is because Google wants them to click ads as much as you do. People are more likely to click those ads which are relevant to their needs. Google measures it through the quality score. If yours is high enough then you will get a higher ad rank, more impression, and higher click-through rate. It helps decrease the cost per click and improve your ROI (Return On Investment).
Microsoft Windows 10 is a widely used operating system in computers all over the world. If you have skills in Microsoft Windows 10 then you can get a Windows 10 Certification from StudySection which can help you in getting hired. A beginner level certification exam for newbies and an advanced level certification exam for experts is available on StudySection.