Introduction
"Jonathan Dwight Jones" took birth on 19th July 1987. He started his career in April 2008. His wonderful record of 6–0 over a period of three months. He is the Light Heavyweight Champion in UFC(Ultimate Fighting Championship) company. His other name is "Bones". Jon is the greatest mixed martial artist. Jon was 23 years old when he won over Mauricio Rua in 2011. At 23 age, he became the youngest champion in the weight classes. In his school time, he was a great wrestler and the state champion and also played football. Total 28 matches played by him, won 26 matches and lost 1 match. His schooling is from Union-Endicott.
About Jones Family:
He belongs to a Christian family and has three siblings. Their names are Arthur Jones, Chandler Jones, Carmen. Carmen is the sister of Jon and she died of cancer before her eighteenth birthday. Jessie is the fiancee of Jon. Leah, Carmen Nicole, and Olivia Haven are the daughters of Jon's.
About the Controversy:
Jones was disqualified for using illegal elbows on 5 December 2009 in his bout with Matt Hamill. In the early morning of 19 May 2012, Jones was arrested for driving under the influence and was bailed out several hours later by his mother by paying a $1,000 fine.
Hit-and-run incident:
On 27 April 2015 police confirmed that Jones was sought in connection with a hit-and-run the previous morning. He crossed the red light and crashed his rental car in a collision involving two other vehicles. An arrest warrant was issued against Jones. Later that evening, Jones posted a bail of $2,500. He also suffered from the controversy in the Drug tests but later on, it had declared that he is not a drug-addict.
Professional record breakdown: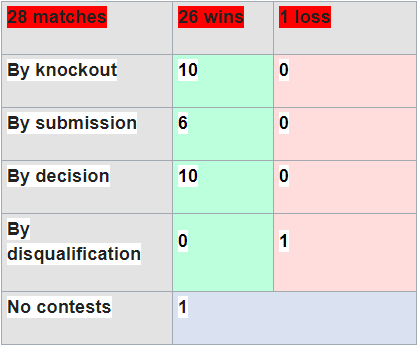 Those who want to pursue their careers in the IT industry, our extensive and elaborated Computer Certification exam is available for both beginners and experts. This exam will help with a deep analysis of your skills in different functionalities of computer systems.