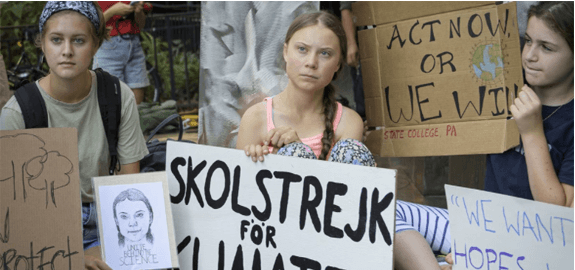 Greta Thunberg
Greta Thunberg was born on 3 january 2003 in Stockholm Sweden. Her full name is Greta Tintin Eleonora Ernman Thunberg.
History
Thunberg's father was an actor and her mother was an opera singer. She started protesting outside of the Swedish parliament in Stockholm on 20 August 2018. The Swedish climate activist, she has become known globally for her environmental campaigns. Thunberg began a solo climate protest by striking from school In August 2018, aged 15. She has since been joined by thousands of school and university students in more than a dozen countries in her strikes that have become regular events. A global strike drew more than a million people, surpassed in September by the biggest yet with at least 4 million in March.
She is fighting against the problem of climate change. She is founding a movement known as "School Strike for Climate" or "Friday For Future"
Thunberg received invitations to speak about climate change. She gave speeches at the World Economic Forum in Switzerland, Davos, and at the European Parliament as well as in front of the legislatures of France, Italy the United Kingdom, and the United States.
Thunberg was also involved in raising awareness about Asperger and inspiring those people who had the disorder. Thunberg was tweeting the point of Asperger. "I have Asperger's and that means I'm sometimes a bit different from the norm. And—given the right circumstances—being different is a superpower." No One Is Too Small to Make a Difference".
Thunberg believes that humanity is facing an existential crisis because of global warming and holds the current generation of adults more responsible for creating the problem. She always uses the graphic analogies (such as "our house is on fire") to highlight her concerns and often speaks bluntly to business and political leaders about their failure to take concerted action.
People having good knowledge of Financial accounting can get an Accounting Certification Exam from StudySection to increase their chances of getting a job in this field. You can get a foundation level certification if you are new to Financial accounting or you can go for advanced level certification if you have expert level skills in Financial accounting.