What is Internet of Things?
IoT is basically a system of interrelated computing devices that have the ability to transfer data over a network without any human to human interaction. The concept of IoT was introduced by Kevin Ashton in 1999.
The devices could be digital or mechanical machines, objects, animals or people identified with unique identifiers.
It is a machine to machine communication, connecting with one another via a network without any human interference or interaction.

How IoT work?
Basically, the IoT system integrates four components, these are
Sensors or devices
Cloud or connectivity
Data processing
User Interface
Firstly, the IoT system communicates with the cloud through network connectivity using the sensors/devices which collect the data from any kind of transmitting environment. For example, our phone is a device that has built-in sensors like a barometer, accelerometer, gyroscope sensors, etc. which collect data.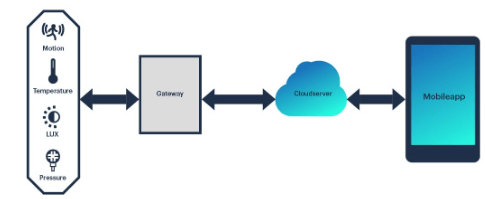 Then, data collected by the sensors or devices are sent to the cloud through a network that could be WAN, Bluetooth, WiFi, internet, etc.
Further, this data on the cloud has to be analyzed, these could be simple or complex. For example, checking the temperature reading whether it is within the acceptable range or not, etc.
At last, analyzed information from the cloud is available to the user so that this information can be useful to them, for example, the temperature is too low or high or average.
The real-life example of IoT is UBER, you book a cab from their app installed on your mobile device and it will pick you up from your saved address and drop you to the destination address from your app only. So, UBER put all the taxis and people who want to offer taxiing service on your phones for you without any hassle.
One more example of IoT is Amazon's Alexa that is connected to your phone via Bluetooth and wifi and hence serves you only on your voice command, whether it is to add reminders for you, play news/videos/music, sending messages, etc.
Why is there a need for IoT?
IoT helps people to work efficiently by reducing power and time, thus making their life easier. IoT interacts with the real world with the help of sensors that collects information and creates data. The data will be sent to a processing unit, that can be a central unit or a dedicated unit depending upon the requirement. Each unit is connected to a network that has a certain bandwidth which is proportional to the number of connected units. This collected data helps make some defined actions with or without human intervention.
Also, IoT helps to lighten the workload by making everything automated, like smart refrigerator having the sense of which food is going to expire(take milk as an example) and hence order a new carton of milk when it reaches a certain level of expiry.
Improving your lifestyle, added health benefits, and improved wellness are also part of the bright IoT future. For example, those that exercise regularly can utilize wearable technology to help them track their heart rate, body temperature, hydration to stay in shape and monitor their health.
IoT is gaining popularity day by day and is being used in several industries varying from Healthcare, construction, smart cities, smart home applications, wearables to smart transportation where IoT revolves around automation providing people smarter solutions.
Here are some benefits for opting IoT
Enhances productivity
Promotes resource utilization
More revenue
Saves time and money
Minimizes human efforts
Guarantees much more accurate data
Makes better business decisions
Improves customer experience
Hence, IoT applications are a promise to bring immense value to our lives.
People having good knowledge of Financial accounting can get an accounting certification from StudySection to increase their chances of getting a job in this field. You can get a foundation level certification if you are new to Financial accounting or you can go for advanced level certification if you have expert level skills in Financial accounting.