Introduction to A/B Testing
A/B testing (sometimes also called split testing or bucket testing) is comparing two (or more) variations of a product(webpage or app) in order to determine which one performs better. This is done by offering your customer base the different variations at the same time. Generally, one of those variations is called the "Control", and shows the original experience, without showing the new changes. Once that's done, statistical analysis is used to determine which variation performs better for a given conversion goal. The variation with the highest conversion rate wins.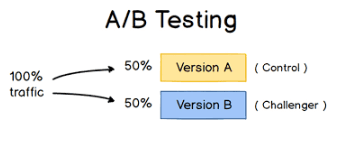 Difference between A/B testing, Split testing, and Bucket testing
A/B testing and Split testing are terms that are often used interchangeably.
| A/B testing | Split testing | Bucket test |
| --- | --- | --- |
| A/B testing is a testing method where a control version is compared to a variety of small, single changes of that control version to find out which version performs the best. | Split testing is a technique of testing where a control version of your website is compared to a completely different version to find out to which one site visitors respond best. | Bucket test starts with a hypothesis, which can be in the text, design or usability change. This hypothesis is based on a team's decision which believes that incorporating a particular change in real-time situations can work effectively to improve conversion rates. |
A/B Testing Tools:
Google Analytics & Google Optimize
Optimizely
VWO
Adobe Target
Maxymiser
AB Tasty
Leadformly
Unbounce
Nelio AB Testing
Apptimize
Google Analytics & Google Optimize

Google Analytics and Google Optimize provide one of the most effective information collection and A/B testing solutions around you. You'll be able to get just about everything you wish for free. Google Analytics is offered by Google that tracks and reports such as session duration, pages per session, bounce rate, etc.

Optimizely

The Optimizely platform technology provides A/B testing tools, in which 2 versions of an online page will be compared for performance and variable testing. Optimizely additionally allows personalization, which can be used for creating data-driven selections.

VWO

VWO is Optimizely's biggest competitor and these two platforms are very similar. In terms of testing, there isn't much between these two CRO tools but there are some feature differences. For example, Optimizely has a dedicated mobile testing tool (which you have to pay extra for) while VWO allows you to get feedback from users (which you don't have to pay for)

Adobe Target

Adobe Target is an enterprise personalization platform and A/B testing comes as standard. You also get automated personalization, mobile app optimization, and recommendations based on your customers' behaviour and data.

Maxymiser

Maxymiser is a powerful solution to optimize client experience and make sophisticated campaigns. Providing straightforward A/B tests right through to sophisticated variable tests, with the ability to quickly and simply create and launch tests on any public or secure page with just one line of code, using the easy to use the visual editor.

AB Tasty

AB Tasty is an A/B testing tool to optimize your conversion rate, allowing you to modify pages using a visual editor, without writing any code and without any technical knowledge. You can measure which versions of your pages turn out the most effective results for your objectives, like page-views, registrations, purchases, and more.

Leadformly

While all of the A/B testing tools we've looked at so far will give you 90% of what you need for running tests, they all fall short on testing some of the finer specifics on your pages.

Unbounce

Unbounce allows you to build, publish and check responsive landing pages, without any information of HTML. With it's friendly, simple to use interface, working with components is easy, with the ability to tweak any side of your page.

Convert Experiment

Convert Experiment offers multi-domain A/B and variable testing and tracking, development tools for jQuery, JavaScript and CSS, with comprehensive reports. Edit your content without your need for infrastructure, with a visual editor and a simple sheet of paper editing for dynamic content experiments.

Apptimize

Apptimize is one of the best A/B testing tool designed for mobile-centric brands. If any business revolves around mobile apps and sites that prioritize the mobile experience, then Apptimize is tailored specifically to your testing needs.
People having good command over the French language can get a French certification from StudySection. StudySection offers both beginner level and expert level French certification exams to test the ability to communicate in the French language.