Introduction
Tiktok is a video sharing social networking service. It is owned by a Beijing-based company that was founded in 2012 by Zhang Yiming. It is used to create short videos for entertainment, learning, showing people's talent, comedy lip-syncing videos, educational videos, etc.
Tiktok was launched in 2017 for IOS and Android platforms. It was launched outside of China. ByteDance had previously launched Douyin for China in September 2016. Tiktok and Douyin are very similar to each other. Douyin allows users to create short music and lip-syncing videos of 3 to 15 seconds. Tiktok is not available in China. Its servers are based in those countries where it is used. It is the first Chinese app that is the most downloaded app in the US in October 2018.
In 2018, it was available in over 150 markets and in 75 languages. In February 2019, TikTok came together with Douyin. The app hit one billion downloads globally. In 2019 it was awarded the 7th most downloaded mobile app of the decade from 2010 to 2019. On 9 November 2017, Tiktok's origin company 'ByteDance' purchased Musically for $1 billion.TikTok merged with Musically on 2 August 2018 to create a larger video community, with existing accounts and data merged into one app, keeping the title TikTok. Musically was a social media video platform that allowed users to create short lip-sync and comedy videos. Its official release was in August 2014.
Features of Tiktok:-
Tiktok app allows its users to create short videos of 15 to 60 seconds.
The app allows users to create fast forward videos to give the best effects to video.
The app allows users to create slow-motion videos as per user requirements.
The app allows users to create videos using face filters.
To create a music video with the app, users can choose background music from a wide variety of music, edit with a filter.
The app allows users to react to videos and comment on videos if they liked the video or not.
The app 'duet' feature allows users to create a video with another video.
The application permits clients to set their accounts as 'private'. Such accounts content remains visible to TikTok, but it is not shown to TikTok users who are not authorized to view their content.
The App allows users to set specific videos to either "public", "friends only", or "private" regardless if the account is private or not.
The "for you" page on TikTok is a group of recommended videos to users based on their previous actions on the app, consisting of what kind of content they liked.
Videos, sounds, filters, and hashtags are added by the users to their "saved" section. This segment is noticeable just to the users on their profile permitting them to allude back to any video, hashtag, channel, or sound they've recently spared.
TikTok utilizes computerized reasoning to break down clients' inclinations and inclinations through their cooperations with the substance, and show a customized content feed to every client.
Tiktok allows you to create videos from photos feature and applying some themes on it and also adding background music on it.
The app allows users to apply filters on video.
App also allows users to change voice effects in which they want, like in chipmunk voice, giant voice, echo effects, etc.
The app allows users to reverse the video to give better effects to the video.
The app allows users to add stickers in a video to give better effects to video.
The app allows users to add transitions in the video to give better effects to video.
Tiktok gave challenges to the user to show their talent.
The company gave it's users gifts from TikTok whose videos were famous on TikTok.
Also, Tiktok arranges functions for famous users to give them awards.
TikTok download statistics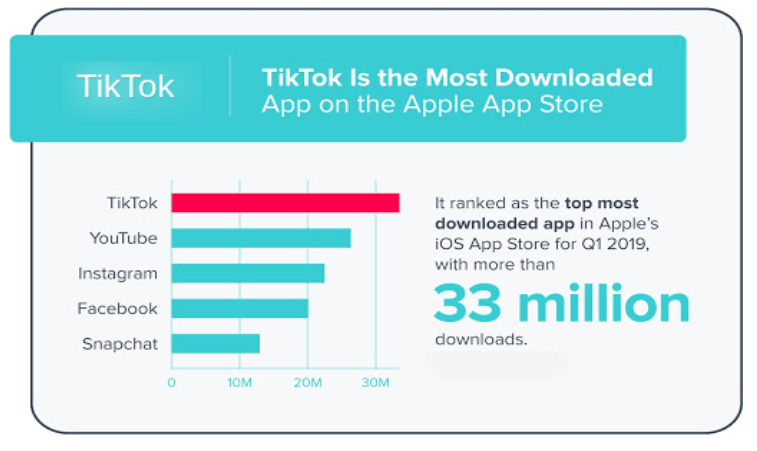 People having good command over the French language can get a French certification from StudySection. StudySection offers both beginner level and expert level French certification exams to test the ability to communicate in the French language.