WordPress Codex
WordPress codex is an online manual created by WordPress developers. It is the resource that contains the details of every function and tag used by WordPress.
See the following screenshot for what it actually contains: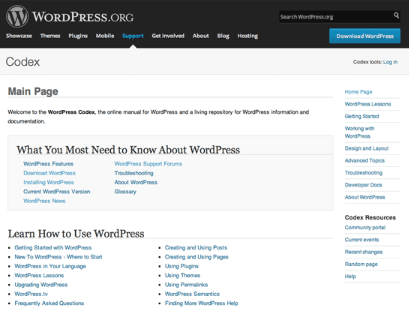 WordPress codex is like the guide book which guides how to use the whole WordPress and its inbuilt functionality.
Here are some points which describe its purpose briefly:
It is used for the guidance of installation and updation of WordPress. WordPress installation guidance can be a little technical. It's important that you already know how to transfer files and how to create a database of WordPress.
It provides some WordPress lessons for the WordPress beginner or learner. It is important if you want to learn how to use the WordPress platform.
It provides guidance on how to create WordPress themes. It describes the concept of child themes, template tags, and the template hierarchy.
It provides information to developers on how to develop plugins. It provides information about WordPress coding standards and the WordPress plugin API.
If you have skills in PHP programming and you want to enhance your career in this field, a PHP certification from StudySection can help you reach your desired goals. Both beginner level and expert level PHP certification exams are offered by StudySection along with other programming certification exams.