Mailchimp is the software that will change the way you market your product on the internet. It is an easy email marketing software that can give you a number of simple and clear options for designing, sending and saving templates of your emails. It is an all-in-one marketing platform that can help you manage and talk to your clients, customers, and other interested parties. The approach is to focus on healthy contact management practices, beautifully designed campaigns, and powerful data analysis.
Why use MailChimp for WordPress websites?
Using a MailChimp is currently the most beginner-friendly email marketing service, and it will be easy to use and has quite a lot of WordPress integrations.
But how does it work?
It has a combined ranking system that will sort your subscribers by their activity level. The ones that always open your emails will have a better rank than those who rarely or never open them. How cool is that? Also, you can create groups of your subscribers based on email open rates, demographics, etc.
MailChimp for WordPress
Your website visitors should have an easy time with subscribing to your content, and this plugin allows them to do just that. What a simple way to grow your email lists, right?
MailChimp for WordPress is one of the greatest rated plugins that allow you to integrate a clean and customizable subscription form to your website.
MailChimp Activity
Here is another simple, yet useful plugin.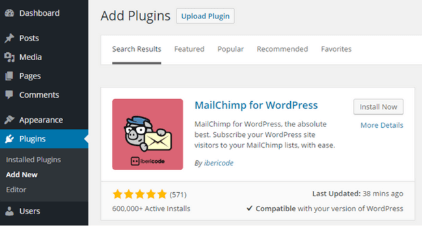 MailChimp Activity will allow you to check how your email lists are doing right here on your WordPress dashboard. When you install it, the plugin will show you a new dashboard widget that will have a bar-graph or line-graph showing you the changes on MailChimp lists.
Next, you'll need to connect your MailChimp account to the plugin. In order to do this, You will need to get your API key from MailChimp and paste it within the plugin.
To find your API key, log into your MailChimp account, visit Account > Extras > API keys. Scroll downward and click on the "Create A Key" option on the API keys page. In the API key column, you will see a box with a bunch of numbers and letters in it — copy what's in that box.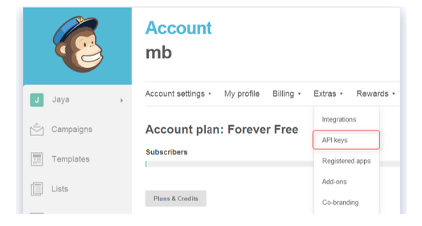 After that go back to your WordPress plugin and go to the Settings menu of that plugin. On the first page, you will be able to see a box where you can paste the API key. Paste it, then hit "Save Settings."
Boom. Your plugin is now connected with MailChimp.
For more information please visit the official Mailchimp website.
Knowledge of .NET is quite rewarding in the IT industry. If you have got some skills in the .NET framework then a .NET certification from StudySection can prove to be a good attachment with your resume. You can go for a foundation level certificate as well as an advanced level certificate in the .NET framework.