Competitive Intelligence:
Competitive Intelligence is a strategy in which all the information about a competitive company is collected. All the factors that make that company stand out are analyzed. We can improve our company's performance by learning from those factors. It is an ethical way to analyze company affairs and then taking the appropriate measures. People who have the knowledge are always ready to face any kind of challenge.
By taking into account all the actions and taking care of operations in the competitive organization, we can move forward. If CI is managed accurately, there can be a huge amount of benefit to gain a competitive advantage as well as to have less operational risks.
Pros of Market Research:
Market research is done by asking people in the market through which all the data about the company's output and all the information they have about the company is collected from the public. In this way, we can have an idea about the business and marketing strategies they are opting to increase their productivity. For example, a Company named X wants to know about a company named Y. Using the available public data, we can know the status of the company Y and all the strategies and measures used by them. With the help of this, we can improve X's performance and productivity. Relative data or information about the organization can help in attracting investors and customers.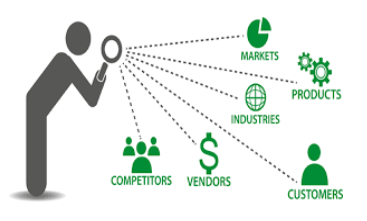 Research-based strategies and Business ethics
Business Ethics are the rules that should be followed whenever any product is manufactured. When the whole process and things used to manufacture the product are disclosed with the customer, only then a new customer or user can come and buy that product. There should be no hiding of guidelines and protocols from the customer. For example, if a business is selling beauty products, then it's their responsibility to provide a label with all the ingredients and items that are included in the product and the purpose of those items. This is the ethical way of running a business. On the other hand, if we do not provide any information about the product to the users or clients then it is considered an unethical practice.
Improving Business Ethics from Competitive Intelligence
Building a strong behavior: It is the duty of the organization to make its employees know about the terms and conditions of the ethical way of running a business and it must be applicable to everyone. For this, we can create some sessions, presentations and any other sort of program by which employees are able to understand the process of running a business in the right manner.
Enhancing Skills: In every company, workshops should be organized to build ethical behavior in employees like building a problem-solving attitude to handle problems and issues. They should always be ready to face any kind of challenge optimistically.
Being the most extensively used JavaScript library, a jQuery certification will add enormous value to your skill-set. jQuery provides various functionalities to the developer in order to develop complex applications with ease and efficiency.