From Vrindavan, Mathura to every street in India, the festival of colors, Holi is celebrated with full fervor and enthusiasm. There are many things that people do every year on this auspicious day. From smashing colors on each other's face to enjoying a hearty plate of delicious Gujiya, and Bhaang, this festival is no less than a carnival that comes each year in the months of February or March.
While the whole country celebrates this festival, did you know why it is celebrated? Why do we put colors on each other's faces? Why do we burn Holika or popularly known as Holika Dahan? Why is it celebrated more in Vrindavan and Mathura? We will try and simplify by providing you with all the information related to the celebration of Holi.
Change of seasons
This Hindu festival that became popular among non-Hindu cultures as well, has a very rich historical background with rich traditions that go back thousands of years. Signaling the arrival of spring after winters, Holi marks the beginning of blooming flowers and a rise in mercury. It also has a story behind it known as the victory of good over evil. While in some parts of North-east India, it is celebrated as a kind of thanksgiving for the optimum harvest.
History of Holi
From the Puranic scriptures of Hinduism, there was a king of the Daityas whose name was Hiranyakashipu and was an Asura. He was a devil and was hated for his cruel nature. He wanted everybody to worship him like a God. However, his own son, Prahlad, was a devotee of Lord Vishnu and refused to worship him.
The arrogant king became angry at the disobedience of his own son. Hiranyakashipu even tried to kill his son several times but nothing worked. At last, he asked his evil sister, whose name was Holika, for help. Holika had a special power of being immune to fire. So, she tricked Prahlada by sitting with him on fire. However, her powers turned out to work against her, and Prahlada was saved but Holika burnt to her death. This the reason why the first day of Holi is celebrated as Holika Dahan. It symbolizes the victory of good over evil.
How did colors became a part?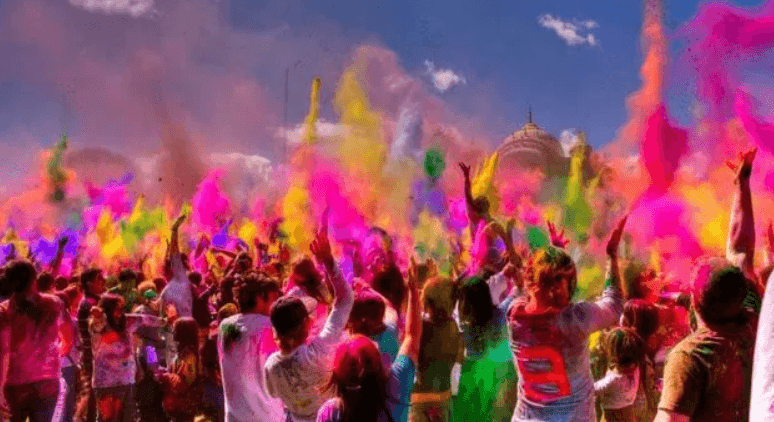 The second most popular reason for celebrating Holi is Krishna and Radha's love story. As Krishna was born blue and had an inferiority complex when it came to Radha, Krishna would not talk to her. Krishna feared that Radha might not talk to him due to the color difference between both of them. It was then that Krishna's mother who advised him to put color on Radha so they won't look different.
Different types of Holi
Although there are some regional variations in the ways people celebrate Holi in India, the enthusiasm and spirit remain the same.
Lathmar Holi is celebrated in Barsana, a town near Mathura, in Uttar Pradesh, where women beat up men with sticks, while chanting "Sri Radhey" or "Sri Krishna."
In Maharashtra, it is celebrated as the time of Matki Phod (breaking the pot). Men climb on top of each other to form a human pyramid and reach up to the height from which pot buttermilk is hung. The one who breaks the pot is named the Holi King of the year.
In Vrindavan, widows immerse themselves in colors on Holi and pray to Lord Krishna. Again, in Punjab, Sikhs revel in colors on Hola Mohalla, which is celebrated a day after Holi.
In North-eastern India, Holi is celebrated in the form of Bihu. Locals thank the gods for the fruition to their hard work in the form of crops and celebrate the festival by wearing yellow clothes and performing a traditional folk dance.
The addition of water during Holi only came in later. In India, there are various types of Holi celebrated such as Lathmar Holi, Hola Mohalla, Krishna Holi, and Khadi Holi. All of these are celebrated with colors, water, and even eggs.
Significance of Holi
During Holi, everyone plays with different colors (Gulaal), however, in recent years, many varieties of colors have become available. From silver to red to blue to yellow to paint each other. Due to the love story of Krishna and Radha, Holi is also celebrated as the day of colored love for couples.
Holi is a grand festival of India and is always celebrated in the best manner. From Kashmir to Kerala and from Gujarat to Assam, Holi is celebrated in diverse ways throughout the country. yellow is the color of turmeric, blue is the color of Krishna, red color reflects fertility, and green symbolizes the start of spring and something new. Other than this, Holi is also played with flower petals like roses, daisies, sunflowers, and even marigolds.
Microsoft Windows 10 is a widely used operating system in computers all over the world. If you have skills in Microsoft Windows 10 then you can get a Windows 10 Certification from StudySection which can help you in getting hired. A beginner level certification exam for newbies and an advanced level certification exam for experts is available on StudySection.