Introduction to Scrum(software development)
In today's world, When we talk about technology, innovations, trends, project management, digitization, our conversation leads to software development. The importance of software development is being understood by every business. Scrum framework, with an initial emphasis on software development, allows us to implement an Agile development methodology. Unlike the SDLC(software development life cycle), the distinctive feature of Scrum is the iterative process of developing.
The following information will help us to understand how to properly create the structure of work items in a Scrum Process. We also have custom fields that are used for business/financial reporting that must be selected correctly on all work items.
Structure / Hierarchy
All work items should be entered in TFS(Team Foundation Server) with the following parent/child relationship:
Project This is a top-level work item that defines the project.
Epic This is a big chunk of work area in a project. It can be a section/area/increment of the project.
Feature This is a specific feature out of epic, which may require two or more stories to be completed.
Story/Bug A specific work in a feature that needs to get done/fixed.
Task/QA Kickback/Issue These are the smallest work items that track the efforts to completing all work.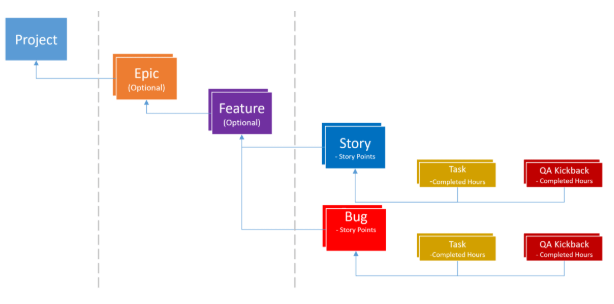 The English language is the most widely used language as a medium of communication around the world. Having a certification for the English language can be an advantage. StudySection provides an English certification exam that tests English language proficiency in English grammar, reading, and writing.