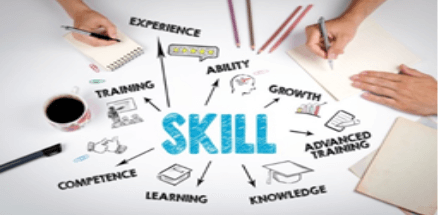 The term "hard skills" contains all those skills that can be learned and proven or demonstrated, which include programming skills, language skills, computer program knowledge, etc. Hard skills are the toolbox full of sturdy skills. On the contrary, soft skills
are more difficult to measure and describe character traits such as resilience, endurance, and team spirit.
What are hard skills?
Hard skills are technical knowledge or training that can be gained through life experiences, like a career or education. Hard skills are skills that can be actively learned, measured, and proven through qualifications or by demonstrating them. Typical hard skills that are learned at a school may include a foreign language, typing techniques, and IT and software skills (e.g. MS Office). In a professional career or training, other hard skills can be acquired – for example, by expanding your skills at work or attending further training courses. This may include skills and knowledge in areas such as accounting, administration, banking, editing, information technology, engineering and maintenance, project management, server operation, research, translation, and many others. Some of the hard skills can be proved even by certificates and work experience. For example, imagine hiring a developer. The hard skills examples that would be necessary for this role include knowledge of specific programming languages, frameworks, and tools.
What are soft skills?
Soft skills are personal habits and traits that shape how a person works, on his own, and with others. Effective communication, for example, is a key soft skill that is required apart from his academic or technical skills. Some other soft skills are dependability, effective teamwork, and active listening.
Soft skills are essential for career, promotions, and searching jobs. As hard skills are necessary to perform technical tasks in a job in a successful manner, soft skills are necessary to create a positive functional work environment. This is the main reason that employers seek individuals who possess both soft and hard skills. Some employers might choose the candidates who have a stronger soft skill set over hard skills, as soft skills are more difficult to develop at times.
Problem-solving attitude, time management abilities, and collaboration are some examples of a good soft skill set.
More on Soft Skill and Hard Skill
The main difference between hard skills and soft skills is how a particular set of skills are gained and being used in the workplace. Hard skills are often gained through academics or specific training. They include competencies like how to use a certain machine, software, or another tool. Soft skills are more often seen as personality traits that are developed as per life experiences. They are called upon when a person manages time, communicates with other people, or confronts a difficult situation for the first time. Hard skills could be defined as technical knowledge whereas soft skills are overall habits in the workplace.
The main difference between hard skill set and soft skill set are as follows:
Developing hard skill vs. soft skill– Employees can develop hard skills through on-the-job practice or from their education, while soft skills can be developed through various kinds of professional and personal experiences. For example, marketers can learn marketing techniques and tools by attending a marketing course, whereas they could grow their collaboration skills by participating in a sports team.
Measuring hard skills vs. soft skills– Hard skills can be measured and described by using numbers or yes/no criteria. But on the other hand, a soft skill cannot be measured on a physical scale, so is described using the qualitative scales.
For example, one salesperson might be:
Excelling at using any CRM software and might have used all the features on a daily basis for the past 5 years.
Good at communication skills and is able to explain the benefits of the product to a new potential customer in a better way.
Evaluating hard skills vs. soft skills
Hard skills can be evaluated, through resumes, portfolios, job-related assignments, and role-specific interview questions. On the other hand, a soft skill is better assessed by asking situational and behavioural interview questions, by using soft skill questions and tests, and by taking into account the personality characteristics of an interviewee which are being presented by him/her during the entire hiring process.
Office Management Hard Skills
Expert-level proficiency with Google Calendar, Docs, Sheets, and Slides.
Making travel arrangements for CEO, MD, or any other top management executives of the company.
Researching and writing various executive materials including announcements, agendas, and slide decks.
Office Management Soft Skill
Maintaining calm behaviour despite tight schedules and other difficult situations.
Organizing personal and professional schedules for three top executives and three-level II executive assistants.
Ability to think on my feet, changing venues, presentation slides, and meal options, often at the last minute.
Some of the in-demand hard skills vs soft skills today are as follows:
HARD SKILLS
SOFT SKILLS
Some of the most in-demand hard skills include:

Bilingual or multilingual
Database management
Adobe software suite
Network security
SEO/SEM marketing
Statistical analysis
Data mining
Mobile development
User interface design
Marketing campaign
Programming languages (such as Perl, Python, Java, and Ruby

Some of the most in-demand Soft skills include:

Integrity
Dependability
Effective communication
Open-mindedness
Teamwork
Creativity
Problem-solving
Critical thinking
Adaptability
Organization
Willingness to learn
Empathy
If you have skills in PHP programming and you want to enhance your career in this field, a PHP certification from StudySection can help you reach your desired goals. Both beginner level and expert level PHP Certification Exams are offered by StudySection along with other programming certification exams.